---
Hull vs Arsenal: Gunners' Midfield Reunion Key in Cup Final Warmup
Posted: 19 Apr 2014 09:36 AM PDT
Hull vs Arsenal: Gunners' Midfield Reunion Key in Cup Final Warmup - originally posted on Soccerlens.com
In a precursor to the FA Cup final, Arsenal travel to the KC Stadium tomorrow to meet Steve Bruce's overachieving Hull City.
This match should see Arsenal's fist choice midfield of Aaron Ramsey, Mikel Arteta and Mesut Ozil reunited for the first time since the Boxing Day match against West Ham. Whilst most of the ire of Arsenal fans has recently been directed at Olivier Giroud and the misfiring attack, the absence of their first choice midfield has been under-appreciated by some.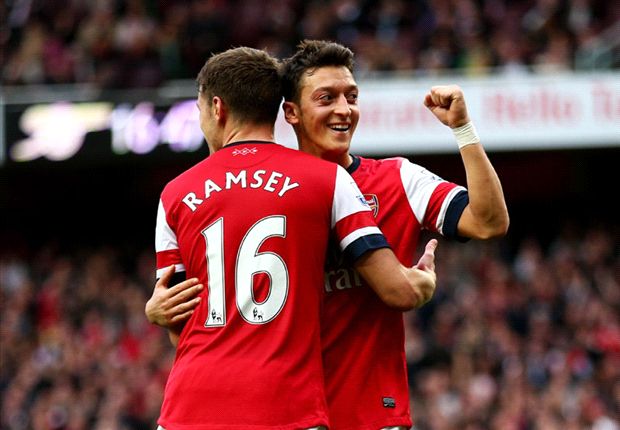 This is partly because of Arsenal's wealth of midfield options. Midfield is the only part of the park where the Gunners seem adequately stocked. Even with the absence of Ozil and Ramsey, Arsene Wenger has had (at varying times) the likes of Tomas Rosicky, Santi Cazorla, Jack Wilshere, Matheiu Flamini and Kim Kallstrom to call on to deputise for the absent stars.
However, the first choice midfield is first choice for a reason. With Ramsey in the team, working box to box and contributing offensively and defensively, Arteta is free to focus on defensive positioning which is crucial given his lack of pace. It is no coincidence that Arteta has often looked off the pace in the absence of his Welsh counterpart.
The Ramsey-Ozil partnership is equally important. Arsenal fans that have bemoaned the teams recent attacking malaise, complete with lateral passing and a lack of chances created, should be happy to welcome back the team's leading two assists providers who also happen to combine extremely well together, as the video below shows.
https://www.youtube.com/watch?v=rjmh3tNLYG4
That being said, the most important thing for Arsene Wenger's team to gain from this match is not the return of beautiful football, but the three points.
With Everton losing to Crystal Palace midweek, Arsenal's quest for Champions League football next season is in their own hands. Three points here will heap the pressure on Everton before some crucial fixtures in their run in. Whether through a free flowing or gritty performance, Arsenal simply cannot afford anything less than a win from this game.
A victory over Bruce's team would have additional significance given that the Gunners will be facing them in next month's FA Cup final. Whilst each game represents a different challenge, a victory here would give the players confidence heading into Arsenal's best chance to end the nine year trophy drought since the Birmingham City debacle.
Tactics-wise, I'm not sure that Arsene Wenger has the players available, or the personal willingness to change things too drastically. Expect to see a similar line up to the team that started against West Ham midweek, except with Ramsey replacing Kim Kallstrom and Nacho Monreal stepping in for Thomas Vermaelen at left back.
There is no reason that Arsenal should not pick up maximum points in this game. The squad is more than talented enough and has all the incentive to win compared to Hull who sit comfortably in mid table. Lets hope the lads have their eyes on the prize and dispatch Hull as they are expected to.
Prediction: 1-3 (Giroud, Giroud, Ramsey)
Read more from GoonerDev at www.thegoonerdownunder.com 
Follow GoonerDev on Twitter at @Gooner_Dev
From Soccerlens.com - Football News
Can Liverpool lure €15m Chelsea target in the summer?
Posted: 19 Apr 2014 01:27 AM PDT
Can Liverpool lure €15m Chelsea target in the summer? - originally posted on Soccerlens.com
Premier League heavyweights have been keeping close tabs on several players plying their trade in Portugal at the moment.
We covered two days back that Liverpool scouts were present in Portugal to watch Benfica in action against Porto. O Jogo reported that Liverpool scouts were probably watching Benfica trio of Markovic, Rodrigo and Siqueira, who joined from Granada on loan.
However, Liverpool could also be interested in Benfica's 20-year-old midfielder, Andre Gomes, who is also thought to be a reported target of Chelsea.
Benfica are currently going through a parlous financial state and just to improve their economic situation, they've agreed to sell the economic rights of two of their under-21 internationals to Meriton Capital Limited, a third party investment fund owned by Singapore billionaire Peter Lim.
Gomes is one of them, with other being Rodrigo. Spanish website Fijaches.net claimed back in June that Chelsea are keen to secure the signature of Gomes, who has a release clause of €30m.
However, the latest Portuguese reports say the player is valued at €15m only, with Benfica retaining 25% of his transfer rights.
O Jogo reports today that Liverpool could be a possible destination for the player in the summer. Gomes played a second fiddle to Nemanja Matic throughout the first half of the season, but following the Serbian's transfer to Chelsea, the Portuguese has been getting regular chances. He has been impressive in the second half of the season and has scored in the semi-final victory for Benfica over Porto.
He is technically sound and has a good passing range. The Reds were linked with the player in the January transfer window as well, but there was nothing concrete about the rumour. Liverpool may need to invest to bolster their midfield next summer and Gomes could be a superb addition to the squad.
From Soccerlens.com - Football News
£40m Arsenal target to stay put in the summer bar 'extraordinary' offer
Posted: 19 Apr 2014 12:20 AM PDT
£40m Arsenal target to stay put in the summer bar 'extraordinary' offer - originally posted on Soccerlens.com
Arsenal's hopes of signing Julian Draxler has sufered a major blow after Schalke chairman Clemens Tonnies revealed that it would take something 'extraordinary' for the Gunners to land the German in the summer.
Arsene Wenger has been linked with Draxler for the past few months and reportedly came close to joining the Gunners in January. Other reports claim that Bundesliga Champions Bayern Munich are also interested in the dazzling 20 year old.
Read Draxler's scout report here.
The German has a contract with Schalke till 2018 but he does have a release clause of around £40m in his contract.
"Julian will stay at our club, if there is not something extraordinary going to happen this summer,"  Schalke chariman Tonnies told Sports BILD
"After that next season we will have to see. But I am very much convinced he will play even longer for Schalke than just next season."
Arsenal are desperate to land striking options in the summer and provide ample support to Olivier Giroud up front. The Gunners led the Premier League standings for a majority of the season before their challenge blew up in smoke over the past month after a string of poor results.
Draxler, regarded as an immensely versatile player, who can play on either wings or a supporting striker fits the bill perfectly for the Gunners. The 20 year old has scored four goals and racked up seven assists in 31 appearances this season.
So what do you think? Will Arsenal table a extraordinary offer in the summer? Or will Draxler stay put at Schalke in the summer? 
From Soccerlens.com - Football News
Moyes to fight Chelsea and Arsenal for €40m striker?
Posted: 19 Apr 2014 12:05 AM PDT
Moyes to fight Chelsea and Arsenal for €40m striker? - originally posted on Soccerlens.com
Manchester United manager David Moyes was in Portugal a few days back to watch Benfica beat Porto 3-1 in the semi-finals of the Taca de Portugal.
The Red Devils have been linked with several players from the Portuguese league over the past year, and with the presence of Moyes in the stands, the Portuguese press have indulged in the non stop activity of linking players with Manchester United.
We have had reports claiming that Moyes scouted a host of players from the Portuguese Liga – Garay, Gaitan, Carvalho, Enzo Perez, Mangala et al – and now 'O Jogo' and 'A Bola' both report that Moyes is showing strong interest in Porto striker Jackson Martinez.
Martinez has scored 58 goals in 89 games for Porto and is thought be a reported target of both Chelsea and Arsenal. The striker, who has a reported buyout clause of €40m has insisted in the past that he used to be a fan of Chelsea and Arsenal, as a kid.
David Moyes will be given a hefty transfer kitty in the summer, but its hard to see him going for a striker, when he has other important areas to concentrate on.
From Soccerlens.com - Football News
Italian clubs set to battle each other for Manchester City star
Posted: 18 Apr 2014 11:40 PM PDT
Italian clubs set to battle each other for Manchester City star - originally posted on Soccerlens.com
Juventus are set to battle Inter Milan for Manchester City striker Edin Dzeko in the summer according to Italian newspaper 'La Gazzetta dello Sport'.
New Inter Milan President Erik Thohir has already confirmed that the Nerazzurri are looking to bring in a leading striker in the summer, with Dzeko and Fernando Torres from Chelsea being the prime targets.
However, fresh reports from Italy have now confirmed that Juventus have also now joined the race for Dzeko, whose future at the Etihad looks uncertain beyond the summer. It is believed that Old Lady manager Antonio Conte is desperate to mount a challenge with his side in next season's Champions League and has identified that the Bosnian will fill his team perfectly.
While Dzeko has started for Manuel Pellegrini's side over the last couple of months, but its well known that the 28 year old is the third choice striker behind Sergio Aguero and Alvaro Negredo in the pecking order.
Dzeko will have just one year remaining on his £150,000 a week deal in the summer and both the Italian clubs are desperate to land him before the World Cup. He will lead Bosnia and Herzegovina in Brazil and a good show in Sambaland will surely raise his stock further.
What do you think? Should Dzeko sign a new contract at City? Or will either of the Italian clubs grab him in the summer?   
From Soccerlens.com - Football News
Manchester United continue close monitoring of €45m midfielder
Posted: 18 Apr 2014 11:36 PM PDT
Manchester United continue close monitoring of €45m midfielder - originally posted on Soccerlens.com
Sporting midfielder William Carvalho is one of the hottest properties in Europe at the moment, and is being chased by several European heavyweights, including Manchester United.
United scouts have watched him a number of times, while the UK media going so far as to suggest that a deal has already been done! Take a look back at some of the reports here:
April 15, The Daily Express: Manchester United 'agree £35m deal' for Sporting star William Carvalho
April 15, Daily Mail: United also looking to finalise move for Sporting Lisbon's William Carvalho
Ah, there is talkSPORT with their EXCLUSIVE: Manchester United agree stunning £35m deal for Sporting Lisbon ace
Have a look at this! March 22, The Mirror: Manchester United William Carvalho deal: Fee of £37million agreed – move to take place after World Cup
In reality, nothing has happened yet.
Portuguese newspaper 'O Jogo' reports today that United scouts will be present today again to watch the youngster in action at at Belenenses. And that will be four games in a row!
Carvalho is a highly talented midfielder, no doubt, but will it be advisable to pay €45m for a 22-year-old who has yet to prove himself at the highest of stages?
What do you think? Let me know in the comments below…
From Soccerlens.com - Football News
Liverpool: Mexican international fancies summer Premier League move
Posted: 18 Apr 2014 10:10 PM PDT
Liverpool: Mexican international fancies summer Premier League move - originally posted on Soccerlens.com
Liverpool have received a huge boost in their pursuit of Guillermo Ochoa, with the Ajaccio goalkeeper admitting that his future could well lie in England.
The 28-year-old Mexican is reportedly wanted by Brendan Rodgers to replace the outgoing Pepe Reina, who is expected to make his loan move to Serie A side Napoli permanent in the summer.
'Memo' Ochoa, who has been capped 56 times by Mexico, has played for French side Ajaccio since 2011, but has now admitted that his future could lie away from Ligue 1,
'I am evaluating several offers from different countries. I have been in France for three years and I like the way in which this league has evolved, but I would also want to try elsewhere,' Ochoa said (relayed by the Metro),
'At the moment I have no agreements with any team and I am willing to listen to all the proposals to make the best decision possible.
'My agent is dealing with everything and I do not exclude a future in Italy or England.'
Liverpool are closing in on a first Premier League title since 1990, and face a struggling Norwich side this Sunday, before welcoming title rivals Chelsea to Anfield on the 27th April; a game that could well decide the title race.
From Soccerlens.com - Football News
Possible Manchester United Starting Line up against Everton
Posted: 18 Apr 2014 12:19 PM PDT
Possible Manchester United Starting Line up against Everton - originally posted on Soccerlens.com
David Moyes returns to a familiar territory at Goodison Park as Everton play hosts to Manchester United in a high voltage clash on Sunday. Roberto Martinez's side were handed a shock loss by Crystal Palace in midweek which somehow dented their Champions League aspirations.
The Toffees are currently fifth in the standings, a point behind Arsenal while Manchester United can look forward to the business end of a terrible season they have endured since last summer.
For the Red Devils, its their first outing since their Champions League exit at the hands of Bayern Munich as Moyes' side sit nine points behind Everton. Roberto Martinez will be looking to do the double over Moyes, after his side beat United by a solitary goal from Brian Oviedo earlier in the season at Old Trafford. It was Everton's first win at United's home ground in 21 years.
Wayne Rooney has been declared fit for the return to his boyhood club while Robin Van Persie is still out, recovering from a knee injury. Another former Everton player Marounne Fellaini is carrying a knock while defenders Rafael and Johnny Evans face late fitness tests.
Prediction: Everton's desire to guarantee Champions League football might just prove to be the difference in the end. I will put my money on the home side to edge by 2-1 in a closely fought encounter.
From Soccerlens.com - Football News
Five strikers who could solve Chelsea's forward dilemma
Posted: 18 Apr 2014 11:17 AM PDT
Five strikers who could solve Chelsea's forward dilemma - originally posted on Soccerlens.com
Over the course of this season Chelsea's midfield has done a sterling job of covering up for the fact that their strike force has woefully under-performed.
Fernando Torres, Demba Ba and Samuel Eto'o have managed to muster just 16 goals in the Premier League between them, a figure that Liverpool's Luis Suarez has achieved almost twice over single-handedly.
It is a recurrent theme in recent times for the Greater London club who, after three seasons of expecting so much more from Torres, are in desperate need of a forward to fill the hole that was once so exceptionally exploited by Didier Drogba.
It probably didn't help the collective confidence of the Chelsea strike trio when Jose Mourinho was secretly recorded slating them – stating that he had a front line that couldn't find the back of the net. Since then only Demba Ba has offered any sort of glimmer of potency up top, scoring two goals in his last two appearances.
If Mourinho's men are serious about challenging for the Premier League title as well as the Champions League on a regular basis then owning a thirty goal a season hit-man is imperative. He may have scored the goal that has taken them into the Champions League semi-final, but Ba is in no way Chelsea's answer to the likes of Real Madrid's Ballon d'Or winner Cristiano Ronaldo or PSG'S very own footballing wizard Zlatan Ibrahimovic.
So then, if this is going to be the season that Torres finally gets put out of his misery – who should be Mourinho's marquee summer signing? The use of the word 'should' as opposed to 'will' is quite deliberate here; Chelsea's style of play is heavily influential on whether a striker will be successful or not, and therefore Mourinho should refrain from buying any old front-man just because of having a healthy scoring record in a different set-up.  In other words, Chelsea need a target man.
They need Someone who has the strength and tenacity to hold the ball up and lay it off, but also a forward who has the confidence as well as the pace and aggression to run at defenders; they need Didier Drogba Mark II. Here are the five Centre Forwards that would go some way towards filling the void left behind by the Ivorian juggernaut:                                            
Diego Costa
The recently converted Spanish hit-man has been this seasons surprise package with 26 goals in La Liga and 34 in all competitions for Atletico Madrid. Costa is renowned for having an explosive turn of pace and, at times, an overly aggressive nature.
Perhaps, though, and most importantly is his ability to drive at the opposition defence and bully his way through on goal, which is most definitely something Chelsea have lacked since Drogba and Torres has lacked since leaving Liverpool. A £35m figure has already been reportedly mentioned between the two clubs, however, the deal could well be eclipsed by the mighty spending power of Monaco and an offer of a tax-free salary.
Radamel Falcao 
Monaco FC's recent interest in Diego Costa has caused the Radamel Falcao rumour mill to start spinning once more, and yet again he has fallen straight back onto Chelsea's radar. Falcao is perhaps more of a clinical finisher than Costa and even more adept at holding up the ball and spraying it left and right.
Falcao's aerial ability would surely be a perfect match for the Blues, as Chelsea's tactical approach heavily relies on the front-man bringing the ball down and feeding players such as Hazard, Oscar, Willian and Schuurle in on goal. Unfortunately, though, Falcao poses a high risk factor for Mourinho as he has spent most of the campaign sidelined with a serious knee injury. Torres was signed by Chelsea for £50m after returning from a similar injury and look how that has turned out.
Mario Mandzukic 
Mandzukic is an interesting one to say the least. He has played a pivotal role in Bayern Munich's success this season, and yet he has never really won the fans or, more importantly, the manager over. The towering Yugoslavian has always seemed like a short term solution to a problem that has now been resolved by the signing of Robert Lewandowski.
Oh well, Bayern's loss would most definitely be Chelsea's gain (unless Arsenal pull off something miraculous). He is a big game player with the ability to hold up play and draw an entire back line towards him, thus enabling the onrushing midfield to run in behind. He has 25 goals in all competitions, as well as 4 assists and Impressively, yet, is the fact that he has the highest shot accuracy percentage of any striker in Europe, at 71% – even the great Leo Messi can only manage 66%. What's more, Chelsea have the second highest shots per game ratio in the Premier League at 17.4. Bringing the big man to the Bridge would be a stroke of genius as it would surely signal the start of absolute goal-fest for the Greater London side.
Karim Benzema
The chance of this happening is almost non-existent, but it is a nice idea, nonetheless. The 185cm ballet-dancing bulldozer has formed an entente with Gareth Bale and Cristiano Ronaldo this season that has yielded 86 goals in all competitions, 23 of which coming from the Frenchman.
Therefore, Carlo Ancelotti would be a little bit mad to want to sell the Centre Forward this summer. However, for the sake of Benzema's potential talents, moving to Stamford Bridge would be an absolute blessing, as all the while that Ronaldo and Bale are at Real, Benzema will never reach world class status. He is a player that, to get the absolute best out of, needs to be the focal point at the top of the pitch driving the team towards goal. He has pace, finishing, incredible ball control and a intuitive eye for an assist on goal – setting up 44 in his last three seasons. What's more, Mourinho has the added bonus of already working with the Real front-man and knows how to get the very best out of him.
Romelu Lukaku      
Why not stick with what you've got? If it is his age that Mourinho is worried about, then time may be running out, not for Lukaku, but for the Chelsea manager. The 20 year old warrior is already proving he has what it takes to score goals for fun and torment even the tightest of defences, finding the back of the net against the likes of Liverpool, Manchester City, and more recently, Arsenal.
The on-loan starlet has netted an impressive 14 goals in 29 outings this season and has so far remained ambivalent as to where he will be plying his trade next season. It also seems as though Mourinho is more interested in the earning rather goal scoring potential of the Belgian powerhouse, who is likely to see his price-tag inflate considerably if he is to have the type of World Cup that many are predicting. Hopefully, though, Lukaku's performances in Brazil will help change the Chelsea managers mind regarding the striker's future at the club, as, with each performance, the Belgian is looking more and more reminiscent of a certain Didier Drogba in his prime. The big Ivorian even says so himself.
Honourable mentions….
Robert Lewandowski – The Polish goal machine would have potentially been a perfect target man for Mourinho's Chelsea…had he not just signed for Bayern Munich.
Fernando Llorente – Three seasons ago Llorente was in the kind of form that would have seen him score goals for Chelsea with his eyes closed. He has all the attributes they are looking for, but unfortunately since joining Juventus, his goal-scoring form has alluded him.
Whoever Mourinho decides to raid his war chest for this summer it is crucial that he spends wisely, or risk ending up with a strike force that is the laughing stock of Europe…again.
From Soccerlens.com - Football News
Tottenham to appoint former AC Milan manager in the summer?
Posted: 18 Apr 2014 10:58 AM PDT
Tottenham to appoint former AC Milan manager in the summer? - originally posted on Soccerlens.com
According to Italian newspaper Corriere dello Sport, Tottenham are set to appoint former AC Milan boss Massimiliano Allegri  as their manager in the summer.
The report goes on claim that the 46-year-old has already agreed terms with terms with the North London club, and is due to take charge in July. Allegri has a great relationship with Tottenham's technical director Franco Baldini, who is said to have been a key player in appointing the former Milan manager.
TuttoSport also claims that the deal was 'done and dusted' last week, but has come out in the open only recently.
Allegri has reportedly been learning English over the last few months in London and the Italian is believed to be bringing his own backroom staff to the Spurs. 'BEIN Sports' correspondent, CNN and Gazzetta dello Sport contributor Tancredi Palermi also confirmed that Allegri had been taking English lessons.
Dunno honestly on Allegri-Tottenham,it's CorSport news.I only know that he spent last 2 months in London+has great relationship with Baldini

— Tancredi Palmeri (@tancredipalmeri) April 18, 2014
Alegri was sacked by Milan in January after a four year tenure at the club. Under him Milan won the domestic double in the 2010-11 season winning the Serie A and Coppa Italia, but he left the club 30 points behind leaders Juventus at the beginning of the year, not something that will fill Spurs fans with confidence if he is to take the helm at White Hart Lane.
@tc917 not appropriate for me to confirm or deny what other sources are reporting amico, I can say he has been in UK to learn English

— David Amoyal (@DavidAmoyal) April 18, 2014
What do you think? Could Allegri be a success in England? Get involved in the comments below…
From Soccerlens.com - Football News
Possible Liverpool Starting Line up against Norwich
Posted: 18 Apr 2014 10:57 AM PDT
Possible Liverpool Starting Line up against Norwich - originally posted on Soccerlens.com
Having grabbed a dramatic 3-2 win over Manchester City at Anfield last weekend, Premier League leaders Liverpool will now travel to Carrow Road this Sunday to take on relegation threatened Norwich City.
The Reds are two points clear of Chelsea at the top of the table after ten straight wins in a row and manager Brendan Rodgers knows that an eleventh triumph will put his side within touching distance of winning the title this season.
Liverpool will be without the suspended Jordan Henderson, who picked up an avoidable straight card after needlessly crashing into Samir Nasri in the dying moments of the game at Anfield.
Rodgers has to make a key decision on who should replace Henderson in the starting eleven. Will Joe Allen start in what would be a flat 4-3-3 setup? Or should Lucas Leiva slot in to act as a screen for the back four enabling Steven Gerrard more freedom to express himself on the pitch.
There are also injury concerns over striker Daniel Sturridge but Rodgers believes the prolific Englishman should recover from his hamstring injury to take the pitch on Sunday.
Norwich however have problems of their own, the Canaries are currently 17th in the table, just two points above safety in the relegation battle. The Canaries have managed only one victory in their last seven matches and new manager Neil Adams is under pressure to steer his team clear above the threatened drop zone.
Prediction: Luis Suarez has been Norwich's nemesis scoring eleven goals against Norwich in his last four games against the Carrow road side. Liverpool's desire to win the title should comfortably give them a 3-0 win over the relegation threatened home side.
From Soccerlens.com - Football News
You are subscribed to email updates from Soccerlens.com
To stop receiving these emails, you may unsubscribe now.
Email delivery powered by Google
Google Inc., 20 West Kinzie, Chicago IL USA 60610